Latest posts by Miodrag Ivanovic
(see all)
Strategije razvoja su osnovni element dugoročnog, stabilnog i efikasnog razvoja privrednih i društvenih subjekata. Najveći deo razvojnih startegija – preduzeća, opština, regiona, industrijskih sektora i strategije razvoja država i nacionalnih ekonomija – imaju nekoliko nedostataka, prvo, nisu zasnovane na uravnoteženom i uzročno posledičnom odnosu između prošlosti – sadašnjosti i budućnosti; drugo, ne počivaju na originalnim i primarnim istraživanjima (anketni list, survey, intervjui, observacije i posmatranje) kojim treba identifikovati interes osnovnih stakeholdera, posebno građana, zaposlenih, malih preduzeća, privatnih vlasnika i preduzetnika; treće, misije i vizije razvoja nisu podržane efektnim akcionim planovima i ključnim, indikatorima implementacije i rezultata, tj. ostvaremnja; četvrto, menadžerski nivoi upravljnja – strateški, taktički i operativni, nisu usklađeni i podržani s adekvatnom podrškom (resursi, definisani procesi, informacije i definisani kvalitet) i detaljnim akcionim planovima na godišnjem nivou; peto, analiza glavnih stakeholdera i njihova uloga, snaga i interes ne definiše se precizno na srednji i dugi rok, i šesto, implementacija strategija razvoja ne može se relizovati bez definisanih nadležnosti, tokova informacija i posebno planova komunikacije.
Model strateškog planiranja A, B, C, D, E i E jedan je od mogućih pristupa koji mogu doprineti definisanju razvojne strategije na sistematičan, logičan i dosledan način. Kao što se vidi iz prikazanog modela, različite faze predstavljaju okvir za procenu i izbor odgovarajućih strategija, odnosno načina njihove realizacije i evaluacije.
Slika 1. Model strateškog planiranja – A, B, C, D, E i E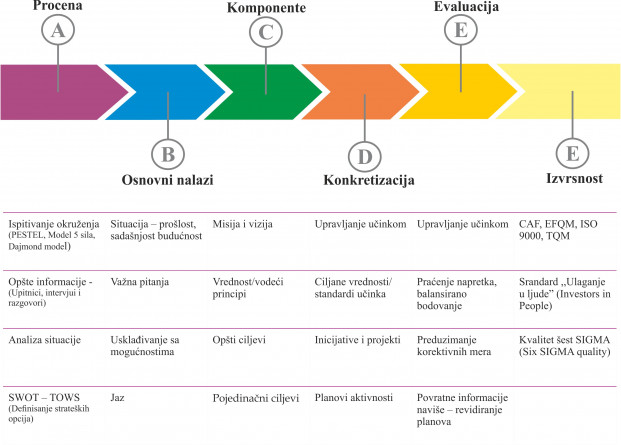 Prve tri faze – procena (Assessment), osnovna analiza (Baseline) i komponente (Components), obezbeđuju postepen i metodološki pristup u definisanju strategije. Faza procene podrazumeva analizu unutrašnjih i spoljnih faktora (SWOT analiza), dok se osnovna analiza bavi glavnim nalazima procene i predstavlja polazište ili odskočnu dasku za izradu strategije. Komponente se odnose na deo strategije koji se dogovara na najvišem nivou – to su misija i vizija organizacije, te vrednosti na kojima strategija treba da ponikne.
Poslednje tri faze – konkretizacija (Down to Specifics), evaluacija (Evaluation) i izvrsnost (Excellence) pripremaju teren za realizaciju strategije i obezbeđuju efikasno korišćenje resursa. Kako sâm naziv govori, konkretizacija se bavi svakodnevnim zadacima čije izvršenje uslovljava i izvršenje glavne strategije. Faza evaluacije podrazumeva preispitivanje procesa strateškog planiranja koje je sprovedeno i omogućava organizaciji da utvrdi šta se pokazalo kao dobro a šta ne, šta je postignuto, šta bi moglo da se poboljša i kako postupati u budućnosti. Poslednja faza zapravo se odnosi na dobijanje potvrde dobre prakse primenjivanjem standarda kvaliteta koji struka priznaje kao takav.
Ovih šest faza predstavlja suštinu, sadržaj i zadatak strateškog planiranja. Sadržaj i struktura svake od njih pružaju jasan uvid u osnovne elemente strateškog menadžmenta, a to su: strateški položaj, donošenje strateških odluka i realizacija strategije.
Proces strateškog planiranja počinje postavljanjem fundamentalnih pitanja o sadašnjem i budućem položaju organizacije. Pitanja na koja treba dati odgovor su sledeća:
Gde smo sada?
Gde želimo biti?
Kako premostiti jaz između te dve pozicije?
Kako realizovati glavne ciljeve?
Koliko smo bili uspešni?
Kako nas drugi vide?
Odgovori na navedena pitanja nisu ni jednostavni ni laki, a do rešenja i opcija se ne može doći bez ozbiljne analize, evaluacije i konsultacija sa zaposlenima ili sa onima za koje smatrate da su od strateškog, operativnog ili taktičkog značaja za proces realizacije.
Vođe timova i rukovodioci koji sprovode strateški plan treba da imaju bar neke od sledećih osobina:
liderske veštine;
znanje i spremnost da uče;
osetljivost i posvećenost budućem razvoju;
sposobnost organizovanja zadataka u skladu s kompetencijama zaposlenih i organizacionih delova, tj. da znaju ko radi šta, kada i kako;
sposobnost rada u timu i dobrog koordiniranja aktivnosti;
sposobnost dobrog upravljanja vremenom (da izvrše zadatke u strogo definisanom roku).
Sve ovo predstavlja deo osnovnih vrednosti humanog kapitala koje svi zaposleni, a naročito rukovodioci, treba da imaju. Model strateškkog planiranja nudi Vam efektan okvir, tehnike i strateške analize koje će Vam pomoći da otklonite navedene nedostatke u izrado dugoročnih strategija razvoja.
Profesor dr Miodrag S. IVANOVIĆ
Reference:
Strategic Planning Guidebook Kindle Edition, availabel at https://www.amazon.co.uk/Strategic-Planning-Guidebook-Miodrag-Ivanovic-ebook/dp/B00I12QCGK/ref=sr_1_1?keywords=Miodrag+Ivanovic+Guidebook+for+strategic+planning&qid=1582642389&s=books&sr=1-1 [Accessed: 25 February 2020]
Mudorst malih koraka, available at http://www.miodragivanovic.com/downloads/mudrost-malih-koraka/ [Accessed, 25 February 2020]
Business Model Generation: A Handbook for Visionaries, Game Changers, and Challengers, available at https://www.amazon.co.uk/Business-Model-Generation-Visionaries-Challengers/dp/0470876417/ref=sr_1_5?keywords=guide+book+for+strategic+planning&qid=1582642630&s=books&sr=1-5 [Accessed, 25 February 2020
1622 Total Views
3 Views Today